Art Gallery and Art Auction Program
Published 03/11/2015 10:00 PM | Updated 12/01/2016 04:13 PM
An ever-changing collection of fine art and limited-edition prints adorns our ships' corridors. These works aren't just pleasing to the eye — many are available to buy during our art auctions. Sip some champagne, browse the gallery, and bid on a piece to take home as a trip memento. These auctions feature works from the masters of the Renaissance to contemporary luminaries. A series of enrichment lectures and cocktail viewing parties, led by the art auction staff, typically precedes the auction, usually held at the end of the sailing.
The collections include oil and acrylics paintings, water colors, drawings, hand-signed limited edition etchings, Lithographs, serigraphs and hand-embellished graphic works as well as a wide selection of autographed sports Memorabilia and a unique collection of rare animation art.
Park West Gallery conducts the Art Auction Program.
For Inquiries
Park West Gallery
16000 N.W 59 Avenue
Suite 1
Miami Lakes, FL 33014
Phone: 305 817-6400
Website: www.parkwestgallery.com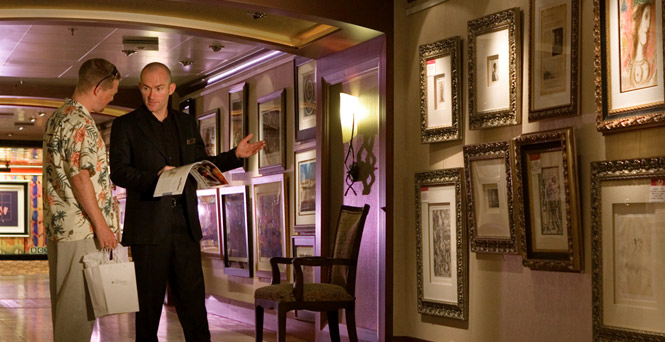 Your rating has been submitted, please tell us how we can make this answer more useful.