Priority Check-In Program
Published 03/11/2015 10:43 PM | Updated 07/05/2016 02:05 PM
Carnival's Priority Check-In is an exclusive service designed to afford our Platinum and Diamond guests and those traveling in deluxe suite accommodations with special check-in privileges. Cruise documents are stamped, PRIORITY and state, "If you have priority check-in (listed on your documents), please proceed to the Priority Lounge."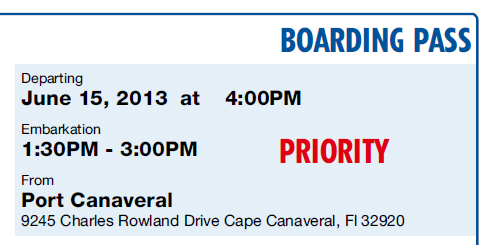 At the time of booking, you will need to instruct the guest that they must ask for 'Priority Check-In' upon arrival at the cruise terminal. Embarkation staff will ensure that guests are expedited through the check-in procedure as quickly as is possible, while providing quality service.
Please Note:
We offer Priority Check-In at all embarkation ports. 
Deluxe Suite Accommodations include the following categories: CS ES GS SS VS FS HS SS OS JS OB
For those guests traveling with minor children alone (without an adult) in separate staterooms that do not fall into one of the three categories above, these additional staterooms may check in through the Priority Check-In Program as well.
Guests who have purchased the

Faster to the Fun

package do not have access to the Priority Check-In Lounge.
Guests may access staterooms no earlier than 1:30pm unless a VIFP Diamond or Platinum level guest or have purchased Faster to the Fun.
Boarding the Ship
On most occasions, guests board the ship in the following order:
Special functions
VIFP Platinum, Diamond, Milestone and Suite guests
Faster to the Fun guests
Premier Casino guests
Special Assistance guests
Assigned Zones
General Boarding (straight from check-in to boarding)
To see when the boarding process commences on your ship, click here.  
Priority Debarkation
In addition, Platinum and Diamond guests and those traveling in deluxe suite accommodations will receive a debarkation letter offering a choice of how they would prefer to disembark the ship. They will be given the option of Self Assist (where offered) or Priority Debarkation; for Priority Debarkation, the guest will receive special luggage tags which will entitle them to debark the ship after the Self Assist guests but before the remainder of the guests.
Your rating has been submitted, please tell us how we can make this answer more useful.