Cherry on Top
Published 03/11/2015 10:00 PM | Updated 07/11/2017 07:03 AM
A cruise is the perfect time to treat yourself to something sweet and Cherry on Top happens to be the perfect place. You will find this well-stocked candy-and-more-store not only great for enjoying some of your confectionary favorites, but the place to pick up branded Cherry On Top gear and gifts for that special someone, even if — admit it — that someone sometimes happens to be you!
Cherry on Top is currently on the following ships: Carnival Breeze, Carnival Conquest, Carnival Dream, Carnival Ecstasy, Carnival Freedom, Carnival Glory, Carnival Horizon (arriving in 2018), Carnival Imagination, Carnival Inspiration, Carnival Legend, Carnival Liberty, Carnival Magic, Carnival Miracle, Carnival Pride, Carnival Sensation, Carnival Spirit, Carnival Sunshine, Carnival Triumph, Carnival Valor and Carnival Vista.
The Carnival Horizon and Carnival Vista both feature indoor and outdoor seating. The Carnival Vista serves premium ice cream, made to order, for purchase.
The following items are available for purchase at Cherry on Top:

Candy: Now & Laters, Tootsie Rolls, Mary Janes, Smarties, Necco Wafers, Candy Necklaces, Bit-O-Honey, Lemonheads, Caramel Squares, Taffy Town (regular and sugar-free), Rootbeer Barrels (sugar-free), Butterscotch (sugar-free), Bulk Candies (51 assorted candies), Wonka candies, Pucker Powder (14 assorted flavors), Hello Kitty candies and Bulk Nostalgic candies
Confections: Rice Crispy pops, sweet apples, truffles, chocolate deep cheesecakes, chocolate deep pretzels, cupcakes, cupcakes in cone, chocolate cherry mice, fudge, cookies, sugar-free cookies
Ladies Apparel: Robes, hoodies, fitted tees, tank tops and lounge pants
Kid's Apparel: Tees, hoodies and robes
And More… Greeting cards, flowers, Bliss items (shower and spa) and balloons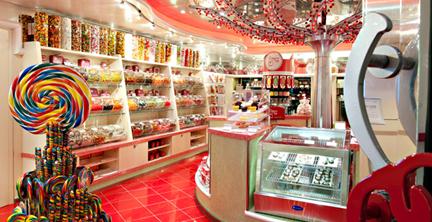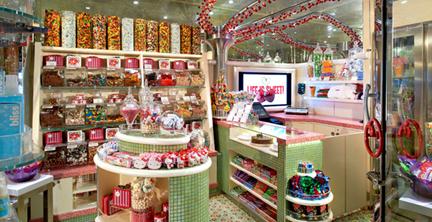 Your rating has been submitted, please tell us how we can make this answer more useful.